| | |
| --- | --- |
| | Paintings - 2002 |
blue in green space July 27th, 2002, 20" x 24"
The first concept I had for painting blue in green was to use Rothko's style. But I wasn't sure how I'd blend blue into a solid green rectangle. I ended up with various shades of blue and green (starting similarly to study 2) with yellow as the frame color.
blue and green July 26th, 2002, 18" x 36"
I had vacationed in Kauai earlier this year and the beauty of the Napili coast line (aside from being on my desktop) must have been in the back of my mind as I added shapes and forms to the blue and green colors. I used purple and blue to create shadows on the hillside, and green and white to shadow the waves on blue.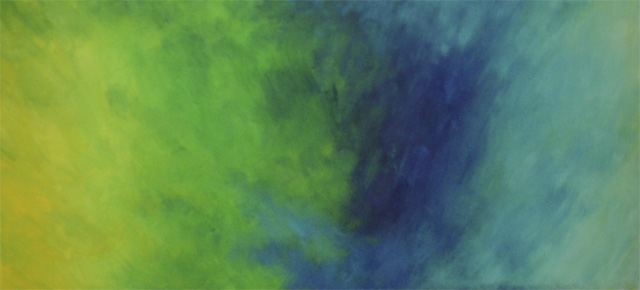 blue ingreenstudy 2 July 26th, 2002, 12" x 24"
If you haven't listened to Miles Davis' Kind of Blue, it's considered one of the most significant Jazz albums ever made. The musicians recorded the album in two takes (about six hours a session) in 1959. Bill Evans (at 25 yrs of age) had played for Miles' band in 1958 and at the time, Miles had asked Bill to work on a song based on the two scales used in Blue in Green (which Miles later gave Bill credit for composing). Although Miles had been planning the songs on the album for quite sometime, the performance was spontaneous. According to Bill Evans' liner notes for the album, Miles came up with a framework for the song. The musicians practiced their solos, and the first take recorded for each song ended up on the album (they actually recorded the flamenco song twice, but all other songs were first takes). Keeping with that spirit, each of my blue in green paintings were painted on the fly (no planning). I painted this second study after completing the painting above using Monet, again as the primary impressionist style.
blue in green study July 26th, 2002, 15" x 30"
I've been listening to Miles Davis' and Bill Evans' recordings of Blue in Green and decided to create a series of painting based on the name of the song, and of course, the music. Initially, I wanted toshow blue and yellow separate from green, blending the colors into an impressionist image of some sort of landscape. I also wanted to capture the feeling of the melody, sometimes sad, sometimes happier, generally pensive and moody.
sushi cat July 20, 2002, 5" x 5"
Simple Sushi Cat June, 2002, 20" x 24"
Sunflowers and Rose May 6, 2002, 24" x 36"
DNA Abstract May 5, 2002, 11" x 14"
Sleepy Bear Feb 26, 2002, 24" x 30" - Extending my color theme-paintings - white, which of course has to employ a polar bear, snow, ice, and dream-like visions- is what this one's all about.
Sharkey Jan 2, 2002, 12" x 20" - My local hockey expert Steven complemented me on my painting skills. Now I'm a Sharks fan :-)
---
To Home Page | Writing | Photos |Art | Music | Movies | Work | Volleyball -- Last updated 7/29/2002